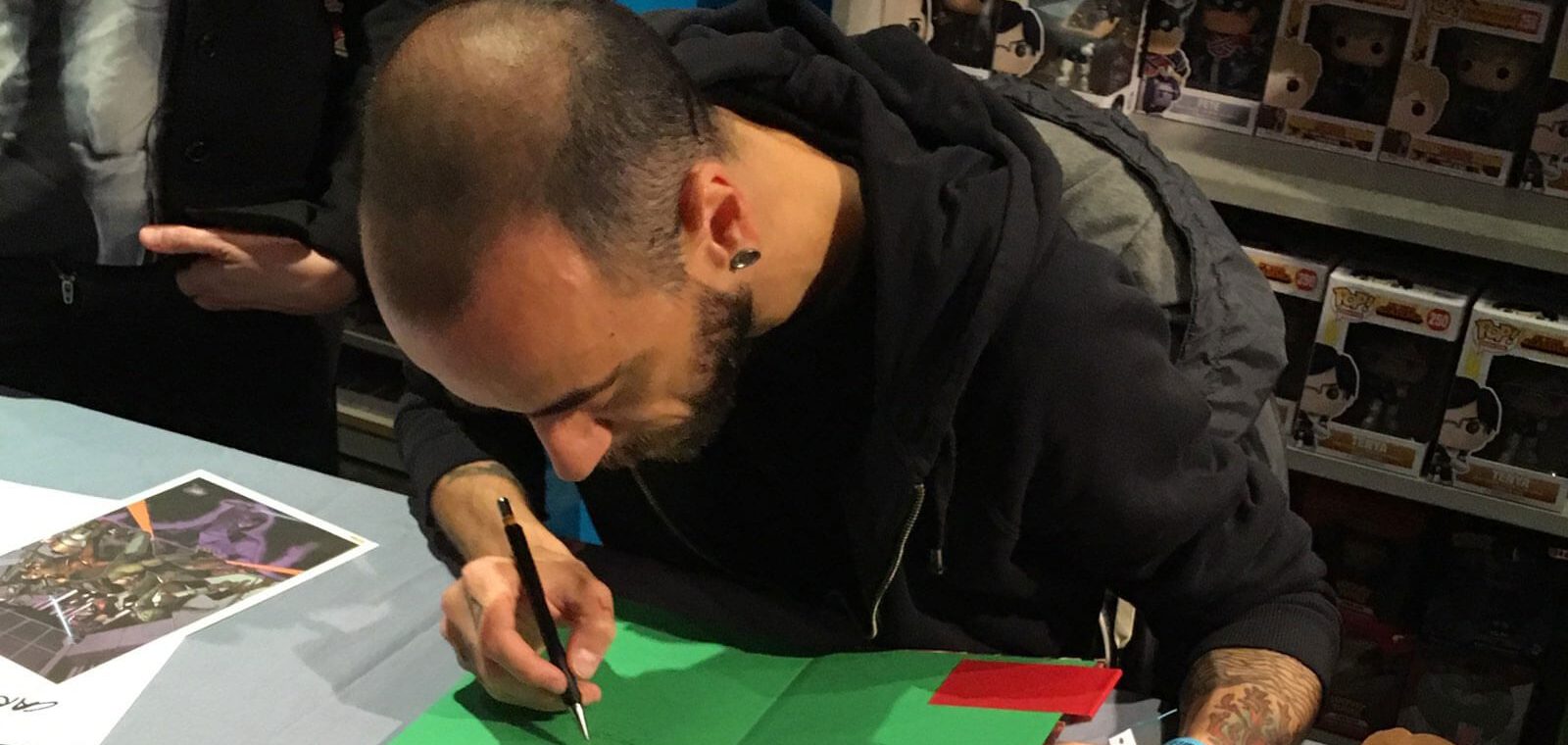 On October 26th Jacopo Camagni came to Album Comics and I took this opportunity to ask him a few questions. For those of you who wouldn't know the artist, he is mostly known for his pencil work on Deadpool the Duck and Star Wars: Kanan.
Paris and its famous traffic played a trick on Jacopo Camagni and his ride, but he finally showed up and was ready for my questions. Jacopo, Panini press attaché and I went to the café across the street. We ordered expressos, I turned on my recorder and here we were talking about his carrier, while outside on the crowed Parisian streets honks, yelling and the city's loud noises were trying to get through the window. Well, here I might actually be a bit exaggerating, but I'm working surrounded by books and all kind of stories so let's say my reality got infected.
OK, OK, I'll stop now and let you read what Jacopo told me on this Thursday afternoon.
Let's start with the basics: how and when did you start in comics?
I started drawing comics in Italy when I was 18 for a comic publisher called Kappa Edizioni. It's an Italian Underground publishing company. I did 3 or 4 little stories there. I went to Angoulême with Kappa Edizioni where I met other publishers with which I worked, like Soleil. I also spent a few years working with an agency in London, where I did illustration for books and magazines. In 2008 I took part in the Chester Quest, a worldwide contest where Marvel looks for artists. Twenty artists were chosen and I was part of them. At first it was on Marvel Adventures, then Spider-man. I've actually began with Doctor Strange. I also worked on Thor, Iron Man and a lot of different minor books. I was then contacted by Jordan White, Deadpool's editor, and I worked on the character and his team for a while. I also did something on Longshot, which was my first solo penciller work. Deadpool the Duck was the first one I did entirely, from the first issue to the last. It's a weird comic to be honest.
Could you tell us a bit more about your underground work?
Kappa Edizioni. It's a small Italian publishing company. So, the story I wrote was about Bologna background, where I live. There are different stories by different artists, some of whom are famous now, all taking place in Bologna. These stories crossed each other at some point.
There was this magazine called Mondo Naif when I started my carrier. I've done a few short stories split in 3 – 4 issues. I made with them Lupin the Third stories, with Monkey Punch. This was really big for me because Lupin was one of my favorite character when I was a child. Monkey Punch choose my work and the stories. I brought all the material. It was not a side project. It was a personal goal to be recognized and doing this story was a great achievement for me.
Could you tell me a bit about how you work? Hand vs Digital?
I began by hand but it was a really long time ago. For Marvel it was by hand at first. They told me only pencil, but after a couple of issues I asked to do everything myself. I didn't like having other people working on my drawing. I love working with other people but only if there is a connection, if our art connects. Marvel agreed and I started to work with pencil and ink. After 5 or 6 years, for different reasons, I tried digital drawing. I was working with computer to color my drawings, and then I did the full page digitally, it has been like this for 7 years now. I continue to draw with pencil and paper, but as a work I do it digitally. It's easier, for example, if you do a mistake, if you have to change something, you can find it quickly on a computer as oppose to papers. This is the pros. Now for the cons. You can loose yourself. You have to know when to stop which is difficult to do at the begin. The risk is to draw something that people couldn't see and the printer couldn't print. Everything is mixed up.
Can you keep your touch when drawing with a computer?
It is difficult. If you compare both of my work you can see the difference. The line might be more fluent, but the ink is more cold. Even if you use a particular digital pencil the result will be different. I prefer to use ink, pencil and paper because it allowed me to get the drawing dirty, marked with the drawing process. You have traces, texture, grain… One of my favorite artist when I was younger was Paul Pope. I love his work for his use of ink. I saw that the mass market, or the french market, when I began, didn't like this kind of dark ink. For commercial reason and more I have changed my style for sure, not in a bad way, it's objective: my style has changed. The structure is the same, but the result is different. I'd loved to do something more underground.
We often talk with Becky Cloonan, you know exchanging advise and such, and especially about inking, about what kind of instrument to use… I discovered a pencil, Pentel Japan, when I was very young in Paris. I remember at that time, in Italy, no one was using it. Now every single illustrator uses it. I remember I took a box of this particular pen in Paris. When I went back, after Angoulême, I took it back and everyone began using it as well. I would like to go back to this but you know time is time, and I cannot spend too much time making pages in my on style. It's different. If you want to work for the mass market you have deadlines, you have to be quick.
Is it hard to work for Marvel at distance?
It isn't different working in Italy or for the States. Because I work digitally I can send everything without problems. At the beginning it was more difficult because I had to send every pages to the inker, it was very slow, I had to make the pages, send the pages to the inker, the inker had to send the pages to Marvel, then Marvel had to scan them, and then to the colorist, etc. It took too much time. It was time you lost on your pages. Now making everything through computer you have more time, you can send them in an instant, receive feedback and so forth. I can work until the last second of the deadline.
How did you work on Deadpool? He is a very expressive character, and he is wearing a mask…
Before Deadpool I worked a lot with Spider-man. Not on the regular series, but it was made for younger readers. Doing so you have a lot of restrictions: no smoking, no swearing, no weapons… and at the same time you have to respect the license. So Spider-man was really animated. I draw the eyes like a manga character, with very funny expression. I think that's because I used this kind of drawing that they choose me to work on Deadpool. I love to do really dramatic expression with eyes. Because it's funny. Deadpool for me is a funny comic.
What about Howard the duck? Were you familiar with the character before you drew it?
When they asked me to do this crossover, I went crazy, I loved Howard the Duck from the 80's movies and the new comic series as well. When they asked me, I was very happy, I saw a great potential in this character, I don't know if there will be a future for him, I hope so. I think it's a character who could become something very weird and funny. I would love to see it in a movie. I don't like Howard the duck in the new Marvel movies. It looks like the old comics. I prefer something more cute. I imagined something very cute but evil and mad. When I saw the Funko Pop, I bought it and I wanted to draw something like that. For me it has to be Howard that you want to hug. But it can also kill you. I would love to see an animated series with Deadpool, Howard and Rocket.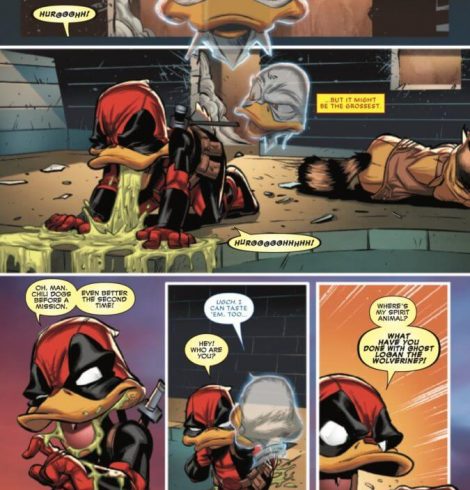 Did you work on the script as well?
No. Stuart Moore did it. He is a really crazy and interesting person. When I read the script with this long scene of vomit I told him: what the hell is this !
Dear reader, if you have ever read this book you definitely know what scene we are talking about, and the writer definitely seems like an interesting guy. That is a lot of vomit indeed! But again, we are talking about Deadpool here. So Deadpool took over Howard's mind, and as we know it he is not one to be graceful and well-behaved. So imagine this lovely killer being in a duck body: he would definitely puck all over the place. Sorry, I digress, let's the conversation continue.
Would you like to work on it again? (that's me talking by the way, the French guy conducting the interview and desperately trying not to make too many mistakes for the reader's sake)
I would love to. But at the moment there is nothing planned.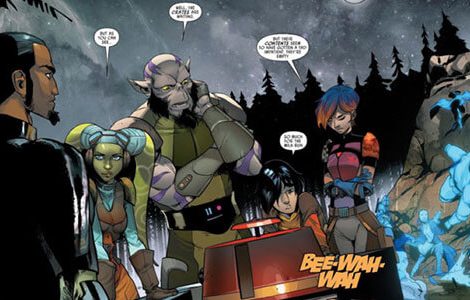 Could you tell us a bit more about Star Wars?
Marvel asked me to work with Pepe. There were two things which scared me: one was working on Star Wars, one of the biggest franchise. And the other one was working after Pepe. He is a master like Olivier Coipel. So continuing his work was a big responsibility. It was hard but a pleasure, an honor for me. I was also pleased to work on Kanan because I really liked the TV series.
What about your drawing? Did you have instructions?
No I draw it as I wanted. It's important to draw with my style. I couldn't draw any other way anyway. I don't want to do a copy. I thinks it's one of the problem in the past years in comics: working digitally a lot of people try to work in the same way as others. There is a lot of author who looks like someone else, but not himself. It's difficult for me when I'm going to the comic book store, I open a book and I can't recognized who the artist is. I think you have to keep your personality to express yourself. Don't try to do as someone else, do it your way. I am saying this knowing that my style, since I went to digital, changed. I'm doing stuff like others, but I'm trying to remain what I was. For me it's very important to respect yourself. I think it's important to have people working together but not in the same way. They should collaborate in their different approach in order to have a better book.
You also do illustrations right? If I am not mistaken you have a company called Dronio…
Yes it's my old nickname and the name of my studio: Studio Dronio.
What kind of drawing do you do?
I've done a lot of different illustrations. Work and leisure are different. For leisure I did a lot of illustrations of boys love. I prefer drawing something I imagine myself. Of course I get inspiration from others, or I do homages, but I prefer to do my own stuff.
For work I began to do illustrations when I was young, at the same time as Kappa Edizioni. I began working with an Italian editor: Playpress (PSM magazine). In high school I sent my work to the magazine. They hired me, and I've done covers with them for 3 years. Then I worked for an agency in London, as a cover artist or illustrator. I also work for fashion, stylists… I did a lot of stuff.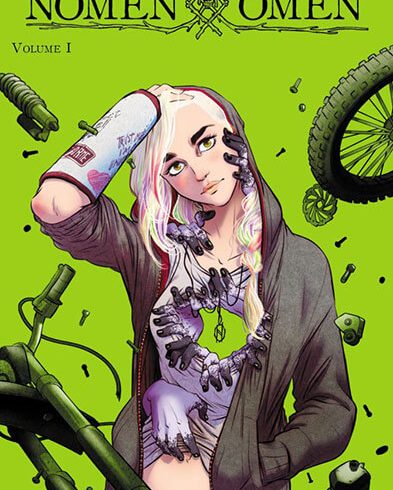 Any future projects?
Yes, Nomen Omen with Panini Italia (released on November 9 in Italy). It's an urban fantasy. I'm the creator and the artist. The script writer is Marco Bucci. He is the guy with whom I did Magna Veritas for Soleil. We continue the collaboration. It's the first book of a mini-series for Panini Italia, and I hope Panini France. It's a urban fantasy set in Manhattan talking about witchcraft and urban magic. It's influenced by Sandman, Wicked and Divine… It's the story of a girl who discover something… I also have a project with Marvel but I can't talk about it ( laugh ).
We already took too much time, across the streets my colleagues were sending me messages saying that the signing had to start and people were waiting for Jacopo Camagni.
Well here it is, the interview is done, I hope you enjoyed it, Jacopo had to go to his fan and his writing.
Interview conducted by Aurélien Banabéra
EN RELATION AVEC VOTRE ARTICLE
ARTICLES QUI POURRAIENT VOUS INTERESSER
---